IDO is the abbreviation for initial decentralized exchange offering. Simply, it is the crowdfunding method used by crypto projects and startups. They raise funds by releasing a coin, also referred to as an IDO token, in the decentralized liquidity exchange platform. IDO tokens cover any asset with definite value. IDO launchpad is based on a liquidity pool where investors can exchange cryptocurrencies and stablecoins.
IDO launchpad is a decentralized platform hosting and listing potential projects for IDO. Companies or individual users who want to invest in these projects just need to buy their IDO tokens. IDO launchpads may be built either on a specific blockchain or multiple ones. IDO launchpads allow projects to become visible in the industry, creating growth opportunities for them.
The key advantage of IDO launchpads for users is the ability to enter projects at the pre-sale price and get higher returns. IDO launchpads provide instant liquidity for projects, thereby reducing the risk of sharp token price fluctuations. With relatively low listing fees, IDO launchpads are the highly competitive launch option for crypto projects.
10 IDOs for Web3 projects to choose from
The selection of IDO launchpads is primarily based on the following factors: the total funds raised by incubated projects, social media coverage, the number of supported blockchains, and average all-time-high (ATH) ROI of IDO.
Synapse Network
The 360-degree ecosystem integrates the anti-snipping solution and oracle technology to make its off-chain data unbreachable. There are 37 participating projects on Synapse that have already raised more than $15M in 80 IDOs. Synapse community unites around 600K members. The thorough KYC with just less than a 2% acceptance rate is one of the strongest sides of Synapse IDO. The key feature of a project to be chosen by Synapse is security. The list of Synapse partners includes such famous brands as Certik, Hacken, MoonStarter, Chainlink, CryptoWeekly, and Fractal, to name a few.
Conduct a Smart Contract Audit to guarantee the security of your project.
Synapse allows investors to use crypto to enter their chosen projects. The minimum allocation for users ranges between $0.3 and $13 depending on a project, while the maximum overpayment X is 5. Synapse core team unites industry leaders with more than 10 years of expertise in the tech business. Synapse Network project portfolio mostly includes NFT and Metaverse initiatives. The sum raised by projects varies between a few dozen thousand and more than $700K, depending on the popularity of the concepts behind the chosen initiatives.
Polkastarter
The decentralized fundraising platform led by the executive team with over 30 years of combined experience in tech. The main features of Polkastarter are anti-scam verification, KYC integration, fair lottery systems, multi-chain swaps, and others. In total, Polkastarter has worked with 111 projects that have raised more than $49M from more than 35K unique investors. Thus, on average, projects can raise around 500K by launching their solutions on Polkastarter. The projects' investment bases in most cases include more than 1K investors. As of now, the market capitalization of the projects incubated by Polkastarter has grown by 10 times reaching $490M.
In terms of media coverage, Polkastarter unites more than 600K audience on Twitter thereby opening huge investment horizons for potential investors. Apart from fundraising, Polkastarter offers projects all-encompassing support covering tokenomics design, marketing assistance, advisory program, listing & scaling, etc. The final decision on the selection of reviewed projects is made by the DAO council. The indicator of the Polkastarter's strong market status is the listing of its incubated projects on Binance (4), Coinbase (3), Huobi (13), and KuCoin (39). The list of Polkastarter's investors includes such famous brands as NGC Ventures, Vendetta Capital, Moonrock Capital, SRC, and other entities. For users, apart from attractive earning opportunities, the big advantage of Polkastarter is seamless user experience. 
ScaleSwap
The multichain fundraising platform that prioritizes quality over quantity. A special focus is made on transparency and fair treatment of investors. ScaleSwap has a clear cooperation scheme with a 5% flat fee based on the total IDO raise amount. ScaleSwap supports popular chains such as Binance, Ethereum, Polygon, Fantom, and Harmony. The list of ScaleSwap's backers and partners includes MoonWhale, Rarestone Capital, GenBlock Capital, CryptoDormFund, Rarestone Capital, and other brands. ScaleSwap has its investor scoring system called ScaleSCORE that incentivizes dedicated users. ScaleSwap has already completed 12 pools including such projects as OneArt, Cirus Foundation, Envelop, DeHealth, and others.
The ScaleSwap's core team unites prominent leaders with deep expertise in European financial and technological sectors for whom bringing ideas to final solutions is a passion. The ScaleSwap's co-founders Ralf Gerteis and Stan Stolberg strongly emphasize the crucial role of security in the Web3 startup market. As of now, ScaleSwap unites around 60K community members worldwide.
PAID Network
PAID Network offers projects the featured product called Ignition, the decentralized swapping protocol featuring such networks as Ethereum, Binance Smart Chain, Avalanche, and Solana. The projects launching on PAID Network raise on average $300K, and $24M in total. More than 80 projects have entered the market through the cooperation with Paid Network. The total capitalization of the projects launched on Paid Network is greater than $327M. The list of Paid Network's investors includes such famous brands as Binance, DuckDAO, Master Ventures, Polkadot, Elrond, etc. ATH ROI reached by projects launching on Paid Network is 26X.
Paid Network offers its users a feature-packed infrastructure focusing on two main aspects: speed and security. To meet the needs of all investors, PAID's launchpad Ignition provides an equitable lottery participation mechanism. PAID Network unites more than 135K users worldwide and makes a strong emphasis on educating the community on Web3, cybersecurity, and crypto investing through PAID Academy.
PancakeSwap
PancakeSwap is one of the most respectable IDOs for anticipated tokens on Binance Smart Chain. Pancake's token $CAKE is used for getting Liquidity Mining rewards, lottery rewards, governance, and more to come. As of now, 21 projects have entered the market by cooperating with PancakeSwap and they have raised around $33M with 16X ATH. The market capitalization of these projects is around $150M. These projects represent such industries as DeFi and GameFi. The most famous projects launched on PancakeSwap are FC Porto, KALM, YieldWatch, Horizon Protocol, etc.
Among the most popular IDOs, PancakeSwap has one of the greatest audiences uniting 1.6M users. The key advantages of PancakeSwap are its user-friendly and intuitive interface, active marketing campaigns, low fees, and a strong focus on security. PancakeSwap actively informs its users of various malicious schemes and phishing campaigns around the brand's name. The platform positions itself as a must-use DEX for crypto players. Another factor adding popularity to PancakeSwap is that users are not required to undergo any special registration and verification.
TrustSwap
TrustSwap is the foundational layer in decentralized finance with a focus on the safety and customization of transactions. According to TrustSwap's dashboards, the platform has already hosted 43 launchpads and its audience has reached 10K+ stakers. In total, the projects launched on PancakeSwap have raised more than $40M with 25X ATH ROI. The most successful projects have brought their early investors even greater than 100X ROI.
The projects launched on TrustSwap represent such main sectors as DeFi, GameFi, and Blockchain service. Only 1 project from the TrustSwap incubation ecosystem has not brought its investors any profits. The biggest projects launched on TrustSwap are Chain Games, Tokenplace, Freeway, Buying.com, and ModeFi. TrustSwap has been founded by Jeff Kerdeikis who used to lead Uptrennd, one of the most visited blockchain social media sites globally.
Seedify
Seedify is the incubator and launchpad for blockchain and NFT games and gamers worldwide. The purpose of Seedify is to revolutionize the play-to-earn era. Seedify offers its community the 9-tier system of allocations. Tiers 6 to 9 have the opportunity to access private sales while Tier 9 has an exclusive right to qualify for exclusive early-stage offerings through the mechanism of Seed Club.
More than 50 popular initiatives have entered the market by cooperating with Seedify. In total, they have raised around $18M with 31X ATH ROI. The market capitalization of incubated projects is now 5X greater than the sum of funds raised. Apart from bringing financial resources to projects, Seedify assists them in building the community and developing strong marketing campaigns. The company is led by Cem Aydan who has tens of years of entrepreneurial experience and has been working with blockchain projects since 2012. The user interface straightforwardly displays all information about the performance of incubated projects. Seedify Twitter community unites around 750K members making this platform one of the biggest entities in Web3 IDO business.
Poolz
Poolz is a decentralized cross-chain IDO platform focused on promoting the growth of innovative blockchain projects. The platform was founded in 2020. Poolz, like other IDOs, apply the lottery system to determine the allocation given to investors that depends on how much $POOLZ they own. The top-100 owners of $POOLZ have guaranteed IDO and PreIDO allocations. What is more, the special Poolz Party feature allows even those users who have not been selected for any IDO for the entire month to have a 50% chance to participate in the last IDO of the month. Poolz supports the following chains: Ethereum, Binance Smart Chain, Polygon, Avalanche, Moonbean, Huobi ECO Chain, Near, Harmony, Nervos, TomoChain, and Fuse, and the platform is in active negotiations with other 10 most popular networks. Poolz has already incubated 90 projects that have raised almost $15M with 17.5X ATH ROI. Since the incubation, the projects launched on Poolz have demonstrated the 8X market capitalization growth. The main segments of projects incubated by Poolz are GameFi, DeFi, and Blockchain services.
On average, between 200 and 500 investors participate in each IDO on Poolz. Most of the projects incubated by Poolz have raised at least $100K. The list of Poolz's partners includes such famous brands as Gate.io, Kyber Ventures, Travala.com, GBV, and others. The platform's Twitter community unites around 150K members.
The list of projects with the greatest amount of funds raised on Poolz includes such brands as Space Sip, Menzy, Kryptomon, World of Defish, DISCIPLINA, and HAPI. Poolz is led by Guy Oren who has 5 years of expertise working as COO in FOKOYA, the P2P platform provider.
TrustPad
TrustPad is the multi-chain IDO launchpad supporting the most popular chains including Solana, BNB, Ethereum, Cardano, Polygon, and Avalanche. TrustPad was founded in 2021 and since then has incubated 87 projects that have raised more than $14M with 18.5X ATH ROI. Around half of all projects launched on TrustPad are GameFi initiatives. The list of projects with the biggest amount of funds raised includes Animal Concerts, FNDZ, Soldex, Samurai Legends, and Tap Fantasy. The two projects, namely, Bloktopia and Sidus Heroes demonstrated the shocking ATH ROI of more than 100X (698X by the former one).
TrustPad has developed the strict 10 rules protocol called "SafeGuarded Launch Protocol" all projects have to adhere to with no exceptions in order to receive all funds raised or even have the right to be incubated by the platform. One of the 10 requirements is the need to have a full token audit performed by a reputable company to ensure there are no malicious functions left in the contract. The second important rule is that a project has to set up lock-ups for "Team tokens". TrustPad offers its investors 11 tiers depending on the amount of tokens staked. The entry threshold for users is a bit more than $300 as of September 2022. If the pool is not sold out, the platform offers its investors the first come first serve feature whereby even non-registered stakers can participate in the IDO. When speaking about media coverage, TrustPad unites more than 400K users worldwide on Twitter.
Launchpool
The launchpad democratizes the digital asset landscape by supporting the entire ecosystem including retail investors, whales, funds, marketers, and stakeholders alike. Launchpool has been incubating projects since 2021. It supports such networks as Binance, Ethereum, Polygon, Fantom, and Avalanche. 20 projects have entered the market through the cooperation with this launchpad. In total, they have raised around $12M and the minimum sum raised is $50K with ATH ROI equalling more than 19X. The market capitalization of the projects incubated by Launchpool is almost 4 times greater than the sum of funds raised. Users are required to complete KYC to enter the staking pools. There are 3 pools on BSC and 2 pools on ETH. Lauchpool is the official partner of Alphabit, one of the first major crypto asset funds, and a number of other top tier digital assets.
One of the special features offered by Launchpool is Pop-Up-Pools (PuPs), shorter staking pools aimed at giving free tokens from projects to the Launchpool community. That may be either tokens already in the market or private sale tokens coming with vesting schedules. PuPs are the demonstration of the platform's appreciation to the Launchpool community. The three biggest projects by the volume of funds raised are PolkaCipher, Listen Token, and Pollen. The entry threshold is just $0.14. In terms of the community size, Launchpool is smaller compared to its major competitors having around 50K Twitter community members. Launchpool has been audited by Certik and, generally, in its media publications, the project emphasizes its focus on ensuring regulatory compliance in the jurisdictions it operates in.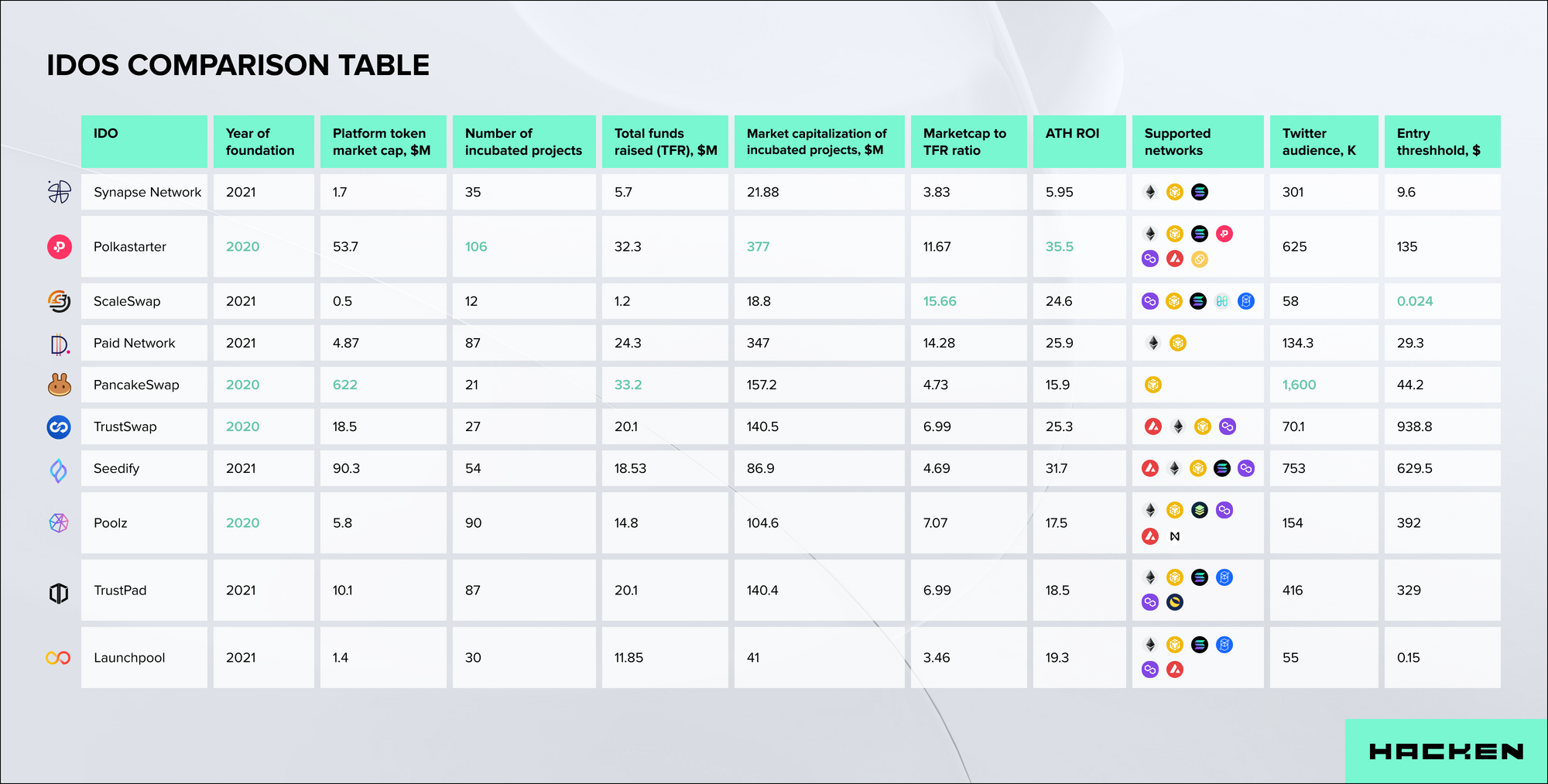 Key Findings
Based on the comparison table provided above, we can see that the IDO platforms with the biggest number of features with the best result are Polkastarter, ScaleSwap, and PancakeSwap. The interesting fact is that ScaleSwap (the platform with the smallest market capitalization of its token) has demonstrated the best result in terms of the proportion between current market capitalization of incubated projects and the amount of funds raised. This means that even relatively small launchpads can bring their communities great returns on investments made. We can see that launchpads try to work with both the most popular chains and the fastest-growing networks thereby following the market trends. Also, the other point to catch your attention is that there is no direct relationship between the entry thresholds set up by platforms and the amount of funds raised by incubated projects.
How to choose an IDO launchpad? Main tips for projects and their investors
Choosing an IDO launchpad is a complex process requiring the application of critical thinking and analysis. Although investors and projects have different reasons to work with IDO launchpads, the mechanism of determining whether the chosen platform is an optimal choice is the same for both parties. Namely, investors and projects should consider the following factors: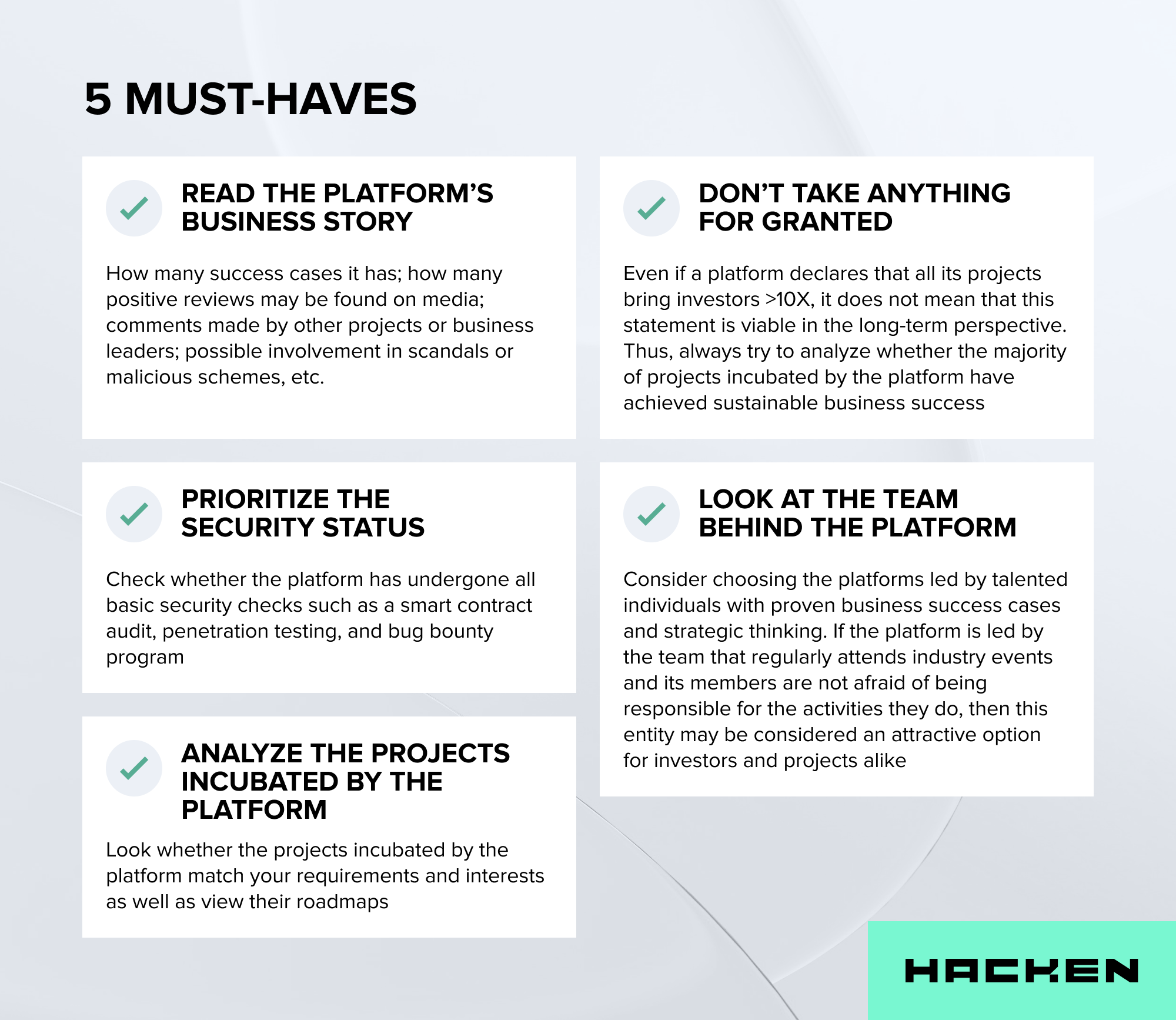 Overall, IDO launchpads play a strategic role in promoting Web3 global transformation. Both individual users and talented entrepreneurs can dive into the Web3 world by working with IDO launchpads. However, to extract maximum benefits from this journey, users and investors should strive to choose the safest and most functional platforms among the dozens of players operating in the market.
Remember that you should never underestimate the role of cybersecurity since even a single incident may destroy the project's future and heavily affect the motivation of users to continue investing their money and time in Web3. And always be ready to accept a certain level of risk if you want to get high returns. Your task is to ensure that you get the minimum risk level possible, while the role of auditors is to provide as much information as possible about the platform's security.